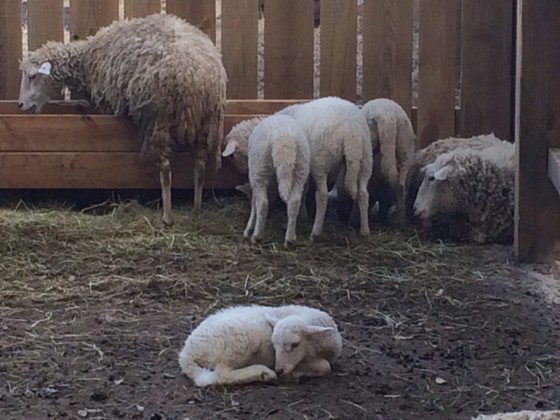 As we hang our Christmas stockings from the fireplace mantel, decorate our Fraser fir trees, and display our Nativity scenes, let's take a moment to reflect and linger on the Christmas story. In each of the Nativity scenes, I love paying attention to the Shepherds, along with sweet baby Jesus, Mary and Joseph, camel, and the Lamb.
The shepherds…Before now I haven't thought too much about shepherds. Other than I know the Lord is my Shepherd, as it says in Psalm 23. Why are shepherds on my heart?
The word "shepherd" is used more and more as a descriptive verb for guiding and motivating, leading a family or group of people, as shepherds guide sheep. My heart's desire is to be a good shepherd of people.
In Biblical times, shepherds were outcasts, really low in terms of social status. Supposedly, even in a court of law, shepherds' testimony wasn't even regarded. Shepherds were voiceless in society. But not to God. God loves to take nobodys and make them somebodys.

God chose shepherds to be the first to see baby Jesus and tell the world about Him.  Shepherds were perfect ambassadors for Jesus. They are patient, kind, gentle, faithful, nurturing. Just like the Fruit of the Spirit (Galatians 5:22).
The Lord gave a respected voice to the voiceless. May it be so of each of us.
"And there were shepherds living out in the fields nearby, keeping watch over their flocks by night. An angel of the Lord appeared to them, and the glory of the Lord shone around them, and they were terrified. But the angel said to them, 'Do not be afraid. I bring you good news of great joy that will be for all the people. Today in the town of David a Savior has been born to you; he is Christ the Lord. This will be a sign to you: You will find a baby wrapped in cloths and lying in a manger…
So they hurried off and found Mary and Joseph, and the baby, who was lying in the manger. When they had seen him, they spread the word concerning what had been told them about this child, and all who heard it were amazed at what the shepherds said to them. But Mary treasured up all these things and pondered them in her heart. The shepherds returned, glorifying and praising God for all the things they had heard and seen, which were just as they had been told." –Luke 2:8-12, 16-20 NIV
In this shiny new 2016, who are you shepherding?   Who is shepherding you? To whom will you tell the Good News of Jesus Christ?
"May the God of peace, who through the blood of the eternal covenant brought back from the dead our Lord Jesus, that great Shepherd of the sheep, equip you with everything good for doing His will…" –Hebrews 13:20-21a
Reflect:
–When have you felt voiceless? Please comment.
–When have you felt like a shepherd?
–Isn't it amazing that Jesus is not only our Great Shepherd but He also is our Sacrificial Lamb? "In a loud voice they sang: 'Worthy is the Lamb who was slain, to receive power and wealth and wisdom and strength and honor and glory and praise!'" –Revelation 5:12
Renew:
–"The Lord is my Shepherd, I shall not be in want. He makes me lie down in green pastures, he leads me beside quiet waters, he restores my soul." –Psalm 23:1-3 NIV.
–"For this is what the Sovereign Lord says: I myself will search for my sheep and look after them. As a shepherd looks after his scattered flock when he is with them, so will I look after my sheep. I will rescue them from all the places where they were scattered on a day of clouds and darkness. " –Ezekiel 34:11-12 NIV.
–"I am the good Shepherd; I know my sheep and My sheep know Me. Just as the Father knows Me and I know the Father–and I lay down my life for the sheep." –John 10:14-15 NIV.
Recharge:
–Who will you pray to shepherd this coming year? God as the Great Shepherd will guide you.