You may still be savoring the sweetness of this past Father's Day Weekend. I pray so.
Not everyone who God uses grew up in absolutely peaceful homes with white, picket fences. I didn't. The home I grew up in was often tense. There was yelling. There was the silent treatment. Mom and Dad divorced after 37 years of marriage after I graduated from college.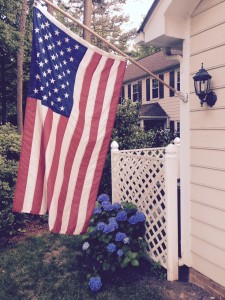 Today's message is how God can still use us as for His service, even when dad or a parent may not be godly or the best role model.
Have you ever heard of a man in the Bible named Korah? Me either.  In Numbers 16, a big, dramatic situation happens with Moses and a rebellious man named Korah. Korah, two other ringleaders named Dathan and Abiram, and 250 Israelite men who were well-known leaders, came as a group to oppose Moses and Aaron. They had the audacity to say to Moses, "You have gone too far! The whole community is holy, every one of them. Why then do you set yourselves above the Lord's assembly?" –Numbers 16:3
If you remember, Moses had been chosen by God via a cool, burning bush message (Exodus 3) to lead the Israelites out of Egypt into the Promised Land of Canaan.
Moses, in his wonderful humility, fell facedown and interceded when he heard Korah and his cronies' complaints. The Lord told Moses and Aaron to separate from the 250-person assembly. God was ready to take Korah out for questioning Moses' authority.
Moses said from the Lord that if the men were to die a natural death, then it was Moses' idea to lead the Israelites. If Korah and all his men were to get swallowed up alive and all their belongings, it was God who sent him.
"As soon as he finished saying all this, the ground under them split apart and the earth opened its mouth and swallowed them, with their households and all Korah's men and all their possessions. They went down alive into the grave, with everything they owned; the earth closed over them, and they perished and were gone from the community." –Numbers 16:31-33.
Dramatic Debbie-downer story, isn't it? So what's my point?
One commentator wrote, "Although this clearly marked the end of Korah, we discover that Korah's sons, perhaps too young to understand their father's uprising, were spared…After seven successive generations, the prophet Samuel arose from the line of Korah (1 Chronicles 6:31-38)." During the time of King David, the Sons of Korah became the great leaders in choral and orchestral music in the tabernacle.
When you read the Psalms, some of my favorites like Psalm 46 and Psalm 84, have the words "Of the Sons of Korah" written underneath the title. I never knew what that meant. Of all of the psalms of the Bible, eleven are attributed to the Sons of Korah!
One wonders if the poet who penned the verses remembers his distant patriarch who perished in an earthquake because of his pride and rebellion.
"God is our refuge and strength, an ever-present help in trouble. Therefore we will not fear, though the earth give way…Be still, and know that I am God; I will be exalted among the nations, I will be exalted in the earth." –Psalm 46:1-2a, 10.
So what lessons may we learn from Korah and his descendants?
Don't mess with those who God puts in authority or God will mess with you. AKA Korah.
Know that God calls any of us for His service, no matter our background. AKA Sons of Korah.
May we have the boldness and strong faith to answer God's call on our lives. Let Him use us, yes, even us, for His service.
Be encouraged, friend.
"Better is one day in your courts than a thousand elsewhere…For the Lord God is a sun and shield; the Lord bestows favor and honor; no good thing does he withhold from those whose walk is blameless." –Psalm 84:10a, 11. Amen.
Reflect:
If you grew up in a tense home environment, how do you feel after reading this message?
What will you do differently? Please comment.
Renew:
"Clap your hands, all you nations; shout to God with cries of joy; How awesome is the Lord Most High, the great King over all the earth!" –Psalm 47:1-2.
"How lovely is your dwelling place, O Lord Almighty! My soul yearns, even faints, for the courts of the Lord; my heart and my flesh cry out for the living God." –Psalm 84:1-2.
Resource:
–Psalms, Volume 1–NIV Application Commentary by Gerald Wilson.
–www.gotquestions.org/sons-of-Korah