Some days I don't feel like I hold it together very well.  Schedules seem too full with important meetings needing important decisions. Praying for wisdom is constant.
Then I read the sweet Truth: "He is before all things, and in Him all things hold together." –Colossians 1:17 NIV.
I heard a sermon once  about this verse, but the busy-ness of life had caused me to file the profound message away. The pastor, Louie Giglio in Atlanta, was preaching about the Glory of God and the human body. One day he met a molecular biologist who told him about "laminin." The scientist asked him to look up laminin on the internet. Pastor Giglio Googled the word. He had never heard of the word. I certainly had not either.
What Pastor Louie found made his jaw drop. Laminin is the basic protein network foundation of most of our cells and organs. It's what holds us all together. Then Pastor Louie saw the image of laminin under the microscope…. Laminin is shaped like a CROSS!
You are a masterpiece creating by the Master of the Universe, wonderfully and fearfully made with laminin! You are made by Jesus, for Jesus. Jesus is our divine glue holding us together. What a relief!
Be encouraged today with this message and by watching Pastor Louie Giglio's video called "How Great is Our God" below.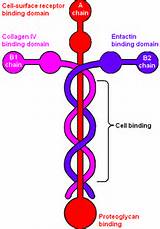 Reflect:
–How are you holding it together today?  Please comment.
–How does your perspective change knowing about laminin?
Renew:
–"For You created my inmost being; You knit me together in my mother's womb. I praise You because I am fearfully and wonderfully made; Your works are wonderful, I know that full well. My frame was not hidden from you when I was made in the secret place. When I was woven together in the depths of the earth, Your eyes saw my unformed body." –Psalm 139:13-15
–"Come to me, all you who are weary and burdened, and I will give you rest." –Matthew 11:28 NIV
Resource:
Louie Giglio's "How Great is Our God" short sermon version
https://www.youtube.com/watch?v=F0-NPPIeeRk